Other than lakes, rivers, and reservoirs, ponds offer bass anglers a fishing destination that's accessible, but selecting the best lures for these scenarios can prove tricky. This is where many of us learned to fish, ponds in farms, golf courses, and communal parks, taking advantage of the slow or no current plus the large availability of fish. 
A fun fact is that 80 percent of North Americans live 10 miles near or around a pond that most definitely has freshwater bass. The general freshwater fishing rule is to match the lure with the forage present on the pond, a concept called matching the hatch. 
By reading this article, you'll not only gain knowledge of the best bass fishing lures for ponds but also how to locate and capture them. You can take advantage of our free ecourse to teach you the tools and techniques to catch bass like a pro. Click here to get access.
What Is the Best Bass Fishing Lures For Ponds
The lures that you should stock in your tackle box for bass fishing in ponds are the ones that give you the most prominent fish after more bites. 
Most pond angling is shallow water fishing, as there are fewer deep holes or underwater structures where bass can find cover. Shallow water fish are spooked by any slight vibration, especially from the banks, and as such, the best lure has to have delicate water entry and subtle action to fool the tough to catch bass. 
Although not all ponds will offer up excellent bass fishing, you'll most definitely need the best lures and good techniques to make your equipment effectively. 
Best Overall Bass Fishing Lure For Ponds: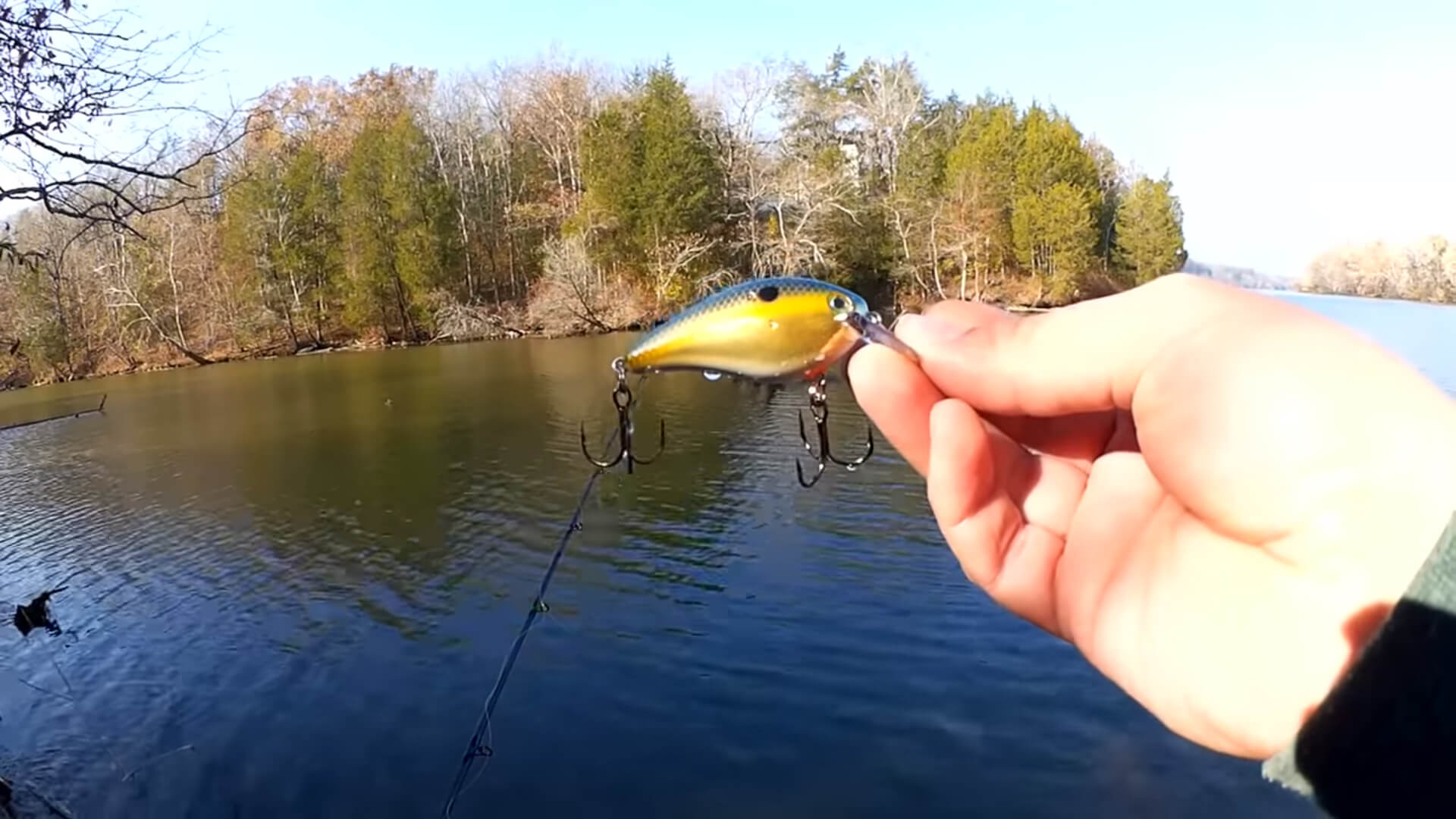 I am quite fond of this square bill crankbait, and you'll also find that it's popular and useful for pond fished bass. Due to the Strike King Square Bill Crankbait's design, I can fish ponds with cover, and the bill won't snag on underwater foliage to invite attacks from the bass. 
This lure's suitability for shallow water fishing makes my recommendation for the best overall bass fishing lure for ponds. You can take advantage of its superb fishing abilities to dive between three to six feet. 
The Strike King Square Bill bait doesn't have a rattle, perfect for the stealthy approach that I've advocated for shallow pond fishing. 
Pros 
Delivers up bass fast in ponds
Fantastic design that's effective in vegetation-covered ponds
Striking coloration that's effective in stained pond water
Cons 
It should be handled carefully as it can rip apart easily.
Runner-up 
Ponds are neither deep nor wide, and that's why you need a mini spinner. The BOOYAH Pond Magic Small-Water Spinner-Bait Bass Fishing Lure will suit the local baitfish, matching the hatch in size and looks. 
I have caught more pond bass with this lure, adding a grub to mimic baitfish or using a detachable L spinner in addition to the small jig heads. Bass will always go for the bright-colored, especially this one in luminescence green, which I guess resembles something they love eating. 
Use this mini spinner like a jerk-bait, working outside and in between cover edges. To create bass bites, bounce the BOOYAH Pond Magic off the cover, pausing for a second to emulate hurt baitfish, which translates to easy prey.  
Pros
Eye-catching and matching color blades retain bass fish catching action. 
Matches the hatch of favorite bass prey with 60 strands ultra-fine silicone skirt
Pull easily through weeds as the willow blade rarely tangles. 
Durable and appropriately priced 
Cons 
With repeated use, the hooks tend to bend.
Best Budget Bass Fishing Lure for Ponds: 
I love this juicy looking zoom bait, to the bass fish at least, for its well-designed structure, and by that, I mean its salt impregnated to attract, hold onto and cook your catch. Bass will be attracted to the Zoom Bait Finesse Worm, a budget-friendly option considering it's in a pack of twenty lures. 
The Finesse Worm lure is impressive inside pond water, featuring a unique displacement that will attract bass to it. I've tried various drop shot lures for pond fishing, but the Zoom Bait Finesse Worm rises above most with its guarantee of practical results. 
Pros 
A high-quality bait that s productive and effective against bass fishing in ponds
Sharp color that's suited to stained pond water 
Salt causes fish to hold on for longer. 
Cons 
Doesn't float, so it can't be used as a topwater lure. 
Best Life-like Bass Fishing Lure: 
A frog is an excellent lure for small lakes and ponds, and bass will blow up on this realistic freshwater bait. I have a lot of fun watching Lunkerhunt Lunker Frog – Freshwater Fishing Lure sitting just under the surface like a frog looking for the right-sized lily pad, and it's encouraging when bass stalk it as though they expect it to leap out of the pond water. 
Throw your realistic frog lure right in the middle of the weedy cover, and its swimming legs will kick out as you retrieve, providing realistic action when they retract on the pause. It's preferable to hit the shoreline's edge, which alerts bass that their protein fix has arrived. 
By the time you drift along to their hiding places, this lure will be tracked, and you'll have an excellent fishy audience in no time. 
Pros 
Perfectly replicates a live frog in pond water
.
The tapered nose will assist in passing smoothly through cover or weeds.
Large air bladder makes the flog a floater for high bass hook percentages.
Cons 
Can spook away smaller bass
Best Lead-Free Bass Fishing Lure: 
Since most ponds are near cover, for best results, you'll need the correct jig as the best lure, especially where tree stumps are acting as hiding spots for bass. I work the BiCO Original Jig Lead-Free Bass Jigs slowly when I want to be weedless, and even though I've seen anglers slinging jigs, the fish will rarely bite on two twitches. 
With this lead-free jig, you're not counting on reactionary or extreme hunger bites, as you can catch big hogs by working each edge and corner of any structure or cover in your pond. Monster bass won't ignore this lure, despite that adage about big bass getting to that size by not being dumb. 
Pros 
The customizable lure that can accommodate horsehair or a pork trailer to kick up bass action
You can skip, flip or fish the lead-free lure as a swim jig.
Perfect as a weedless lure as it's equipped with a sharp hook and multiple colors
Cons 
Best Scented Bass Fishing Bait: 
In case you didn't know, Nick Creme of Creme Lures invented the plastic or rubber worm, which has become synonymous with bass fishing. This is a bass fishing lure that's worked for me in ponds, and you should carry a set in your tackle box, alongside an assortment of attachments and weights. 
When the Berkley PowerBait MaxScent Fishing Soft Bait hits the water, it releases a scent that attracts bass in ways you've never witnessed before. Not only will bass go wild over the attractant scent, but the life-like tail will turn and spin to mimic the easiest prey they'll come across in the pond. 
Pros 
Supercharged with scent to attract bass in their available multitudes
Even the hardiest monsters are fooled by the realistic colors, textures, and movements of the tail.
The 4-inch length is best for cover oriented pond scenarios. 
Cons 
A Quick Guide on Bass Fishing
How to Catch Bass in A Pond during Summer
You can't beat fishing in a pond during summer, as this is an excellent way to catch bass numbers for its accessibility, and it's cheap for anyone to indulge. If, like me, you are averse to jet skis and wakeboards prolific on busy summer lakes, then you'll appreciate the pond getaway where you can fish bass in the morning, afternoon, evening, or night. 
Summertime bass holds in the middle of the pond if there are at least five feet depths, or you'll find them along the shoreline, feeding in the shallows. There's also the stratification of ponds in the summertime, so waters are shallower than during the wetter or cooler seasons. 
Here's my quick guide to fishing and catching bass in ponds during summertime; 
Keep it Simple: 
At most, I carry three rods to any pond during summer, enough to cover the middle, top, and bottom parts of the water column. Since ponds don't experience lots of fishing pressure, there's lots of large and dumb bass, relatively indiscriminate of any lure you throw at them. 
Keep an Eye out for Bass Cues: 
Pay close attention to your pond during summer, looking out for those isolated ripples that mean there's baitfish or the bass are going after them. I throw in my shad imitation spinners and lipless crankbaits past these ball cues, and then I slowly retrieve the lure past the invisible school given away by topwater activity. 
Some ponds will have little or no live bait concentration, and you may not spot the spindles on the water. I use my plastic worms on a simple Texas rig, or when the frogs start to croak, I'll throw in a topwater frog to match these environmental cues. 
Be Creative: 
As oxygen levels fall in many summertime ponds, bass can migrate to creeks, inlets, or wooded areas where the water is cooler. Go after them by skirting the shoreline or donning a pair of hip boots and wading through to reach perfect looking stumps or hay-downs. 
Bass Fishing at Night in Ponds  
Bass is equipped with features that help in night feeding, including a lateral line parallel to their spine for sensing movements and vibrations in the water. This sense is what you'll be looking to fool with your bass fishing lure for ponds, as the fish will locate any prey that is struggling or moving in their feeding zone. 
The most valuable tool for bass at night is their eyesight, zeroing in on nocturnal targets with deadly accuracy. Once their pupils have adjusted from sunset tonight, bass fine-tunes their vision, and this is the time to fish them, although that will depend on fishing regulations in your state. 
I prefer to fish bass at night in clear pond water with some aquatic weeds like hydrilla or coontail moss. The best results I've had so far are in shallow ponds using plastic worms or a jitterbug, as bass are actively searching for food at night. 
How to Locate Fishing Ponds
Not all the ponds you come across will offer up the bass, but there should be a handful within a short distance where a little patience, trial, error, and experimentation pays off. Many avid anglers mistakenly think of ponds as a beginner training ground to be ignored once you've mastered bass fishing art and science. 
Once you've identified a couple of bass fish habituating ponds in your area, divide your time between them so as not to overpressure either. 
I find bass fishing ponds by studying Google maps, and then I'll be driving down the backcountry to see the terrain and size up the presence of bass. My preference is ponds that are not visible from a road, those that can be accessed by walking only as you'll find less competition here. 
Bass in ponds are confined as opposed to large lakes, rivers, or reservoirs, so the bass is well located for fishing. Put your best lures in front of them, and fish methodically and thoroughly when working your pond. 
Conclusion
Ponds tend to be skittish, and the stealthier approach requires that your lures get in front of the bass. Take with you lures that will reach the different levels of pond water columns, as well as those that deal with any vegetation material present in your intended fishing pond. 
Whether you are fishing from the shore or using a small johnboat, the tendency of finding bass is higher than in rivers or lakes. Bass in ponds also grow larger due to the absence of competition but are less likely to fight for hours, making this a unique place to fish with the family and kids.
Bass fishing is an exciting sport, but it can be very intimidating for beginners. For example, are you having difficulty figuring out what baits to use? Do you need to buy a casting rod or a spinning reel? How much should you spend your gear to get started? 
Are you looking for a fantastic guide on bass fishing that is simplified and clear enough to help you start bass fishing? To help you get started, I'm offering you a five-day ecourse for free that will teach you what you need to know to start bass fishing.
In this ecourse, you will learn about the tools of the trade, techniques to bass fishing like a pro, and secrets to help you catch your biggest bass. Click here to have access to "The Definitive Guide To Tackle Bass Fishing."